How to Read eBooks
There are many ebook readers available on the Internet that makes reading your ebook collection more enjoyable than merely viewing the text files in Windows Notepad, Windows Word, etc.
One of the ebook readers that presents your ebook in the most book like form is Bookshelf. This software allows you to read text files as fancy designed books on your computer screen.
Bookshelf takes plain text (TXT) files and displays the contents as if they were printed in a book. You get two pages (or one if you wish) side by side with generous margins and a clean, uncluttered interface. You can click on the pages to turn them. It has a wide choice of page styles and convenient navigation system. Bookshelf easily allows you to come back to the read books and to open them in the place where you have stopped.
The War of the Worlds by H. G. Wells displayed in Bookshelf: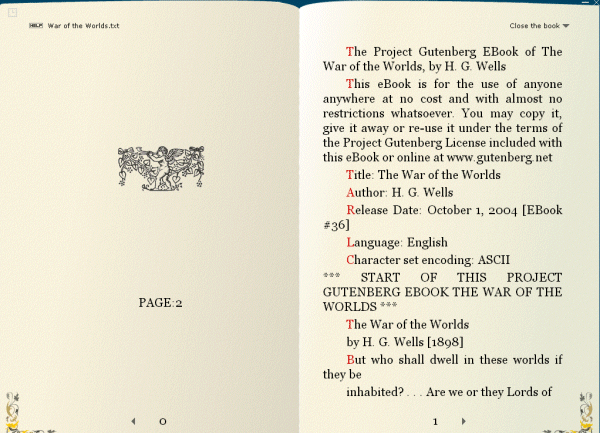 Download Bookshelf for free.
Other ebook readers include:
Microsoft Ebook Reader This program can't read txt and html files, and you can see only one page on the screen.
yBook Reader This ebook reader loads text files and web pages (including direct from an internet address), reformatting them into paperbacks for screen reading. Also includes a printout routine to generate booklets and hard copy for binding, plus a compiler to generate your own ebooks for distribution.
JMReader Another plain text ebook reader.
You can read reviews of various ebook reader software and download: Site 1; Site 2;
With the advent of ebook readers, such as the iPad, ePub is now a standard e-book file format. Many of the free ebook sites now offer ebooks in ePub format. You can still read these ebooks on your PC with free Adobe Digital Editions software.
Amazon Kindle uses a proprietary format (AZW), based on the Mobipocket (MOBI) standard and cannot read ePub files directly.
Firefox users can download EPUBReader, a free add-on that lets you read the contents of any ePub book right inside your favorite browser without requiring any special software.