Bozo, Rusty & Sparky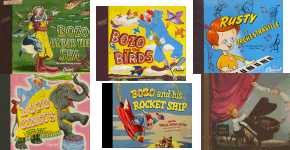 Capitol Record Readers were originally sold in the 1940s as 78 RPM albums. The records were synchronized with the pages so that each time Bozo gave his signal, it was time to turn the page and/or change the record. Later, the readers were available as 45s in boxed sets and finally as LPs. Bozo the Clown was one of the most popular stars of these records.
Pinto Colvig, a former circus clown and the voice for Walt Disney's Goofy and Grumpy, voiced Bozo. Billy Bletcher, the voice of Disney's Big Bad Wolf and Black Pete, voiced some of the other characters. Alan Livingston, creator of the classic Sparky's Magic Piano and Rusty In Orchestraville, wrote the Bozo stories. The music was composed by Billy May, whose successful career included the soundtracks to Johnny Cool and The Green Hornet.
I have recreated four of the Bozo Capitol Record Readers (Bozo Under the Sea, Bozo and His Rocket Ship, Bozo and the Birds, Bozo at the Circus) plus bonus Rusty in Orchestraville and Sparky's Magic Piano on a DVD that plays in your standard DVD player so you can relive your childhood or give them to your grandchildren to enjoy. You can have your own copy of this unique DVD for the low price of $19.56! Send your check today to:
David Arnold
P. O. Box 2616
Saratoga, CA 95070